A Motivational One-Two-Three Punch
There's something painfully poetic about the way that, when I most need a workout, I'm least motivated.  I'm at my most tired, my most lazy, my most depleted.
Without getting into the ugly details, August was a bit mercurial.  It began with a sweeping coast-to-coast vacation, and ended with a return to work and a swift and brutal blow in my personal life. 
Last night, the final day of the month, my roommate joked that I was "overdue for my monthly night off".  And he was right.  I tend to run at high speed virtually the time, but I'd been racing every single day since July.  It's hard to tackle the emotional and literal tasks at hand when you never slow down. 
So when Friday arrived and I didn't have anything on the books (save a short and sweet work happy hour), I embraced the thought of a night in.  The first week with students is always exhausting, no matter how prepared you feel, and I was ready to let the bedraggled drip off of me.  A movie.  Some dinner.  A run.  My laptop.  All of these prospects welcomed me like reliable old friends.
But then I got home.  And sat down. 
I needed the cleanse of endorphines.  I wanted to sweat out the school stress, the lingering sadness, the insomnia and restlessness that had been plaguing me for thirteen days.  I knew that the workout would be the right step toward taking care of myself.  But the sun was rapidly setting, throwing gentle shadows across my living room.  Friends was on.  My dachshund settled into my lap, and my comfy chair began to claim me.
What's a girl to do?
Good judgment be damned, I logged on to Facebook.  This is usually a bad call, but fate was on my side.  In a surprisingly lucky turn, I came across a post from a new virtual friend:
Adventure Amber's Character Building:Â  "What I Think About While Trail Running…"
Amber and I were recently introduced on the WWW through a trusted mutual contact.  As a fellow blogger/exercise enthusiast, she's clearly a kindred spirit.  Though we've never actually met in Real Life, her combination of art and activity catapulted me out of the lull of my squishy chair and early-evening sitcoms…and into my brand-new Happy Hour uniform.
Which brings me to Punch Number Two.
 My ultimate team's new threads arrived on my doorstep this week, and they look good, if I do say so myself: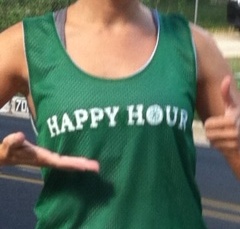 So it didn't hurt that I knew I could shimmy into my shiny black shorts and reversible basketball jersey (with signature logo), all flashy and new, for this workout.  We ordered the reversible just for fun – not for competition – and although it wasn't my idea I'm already in love with them.  Who doesn't love a retro pinnie?  It makes me feel like I'm in high school all over again.  Which doesn't hurt when you're desperately trying to maintain the athleticism of your youth.
I'm so lucky to have a team.  Happy Hour pushes me at practice in ways that I would never push myself alone.  This group of women reminds me that I'm working toward something bigger than myself.  Sure, I like to be in shape for me.  And that's personal.  But I also want to be there for them; I want to be ready for competition; I want to be fit and fast and strong for them.  I have my own individual goals, but the team has even loftier ambitions, and we've made a commitment to each other to reach for them.  We play, we fight, we compete, and we laugh with each other.  What's better than that?  Putting on the uniform was a true reminder of that relationship and that responsibility, and it energized me still more.  I was alone…but not.
All geared up, with Amber's words in my mind and new clothes on my body, I yanked my iPod out of my gym bag.  I plugged in the earbuds and pressed PLAY, without worrying about the track.
 Carried Underwood:  "Cowboy Casanova"
Okay, I know.  "Cowboy Casanova" is cheesey and manufactured.  My rock boyfriend would probably argue that it features "The Riff" (which I admit I can't recognize myself, so who really knows), and point out the studio production of the song.  But whatevs.  I love it.  I relish the heavy downbeat that aligns with my heel hitting the pavement and the chorus of male voices backing up Carrie Underwood's undeniable pipes.  It's a Girl-Power, self-righteous, danceable, pump-your-fist-and-play-it-loud tune.  (And it doesn't hurt that I've covered it with my ultimate players/occasional musicians band, so I can imagine myself behind the mic doing my best Carrie impression.)  Plus, I can't lie:  I wish I could dance around in a brothel/speakeasy wearing a bustle/corset combo myself.
Needless to say, I went for my run.  It wasn't a trail run like Amber's, and I confess that I'm sure I'm not the runner that she is anyway.  I probably could have gone farther.  I've gone faster before, too, although I was spurred on by having recently watched the ghostly slaughter opening scene of Game of Thrones.  (I spent much of the neighborhood run imagining something supernatural and lethal emerging from the darkness.) 
But the point is that I got home sweating, and immediately shed my new jersey so that I could do my core workout sprawled shirtless on the floor.  It wasn't my best workout.  Not my hardest, or longest, or most fun.  It wasn't followed by a rejuvenating trip to Barton Springs or a gratifying meal, and it surely didn't burn as many calories as I perhaps needed to.  But on a quiet, solitary Friday night, at the end of a distinctly challenging week, it was enough.